Sara Weir — Bedroom
I'm so excited to help you redesign your bedroom and create the perfect cozy, layered bed and curated nightstands. I see this as a space where you and your husband can hang out and relax at the end of day and a space that's welcoming for your kiddos to come and snuggle on a slow weekend morning.
We'll use this page as a way to document the process and we'll add to it as we go.
Inspiration Board
I love that the desert is a place of such rich inspiration for you. Let's create a comfortable yet minimal space inspired by desert hues, natural materials, and gathered objects. I want this space to offer a sense of balance —a mix of wood and linen, bold lines and delicate curves, a space that's both earthy and artistic, and intentional yet casual.
Elements of the Perfect Layered Bed...
The following images/video will walk you through creating a perfectly cozy and beautiful layered bed.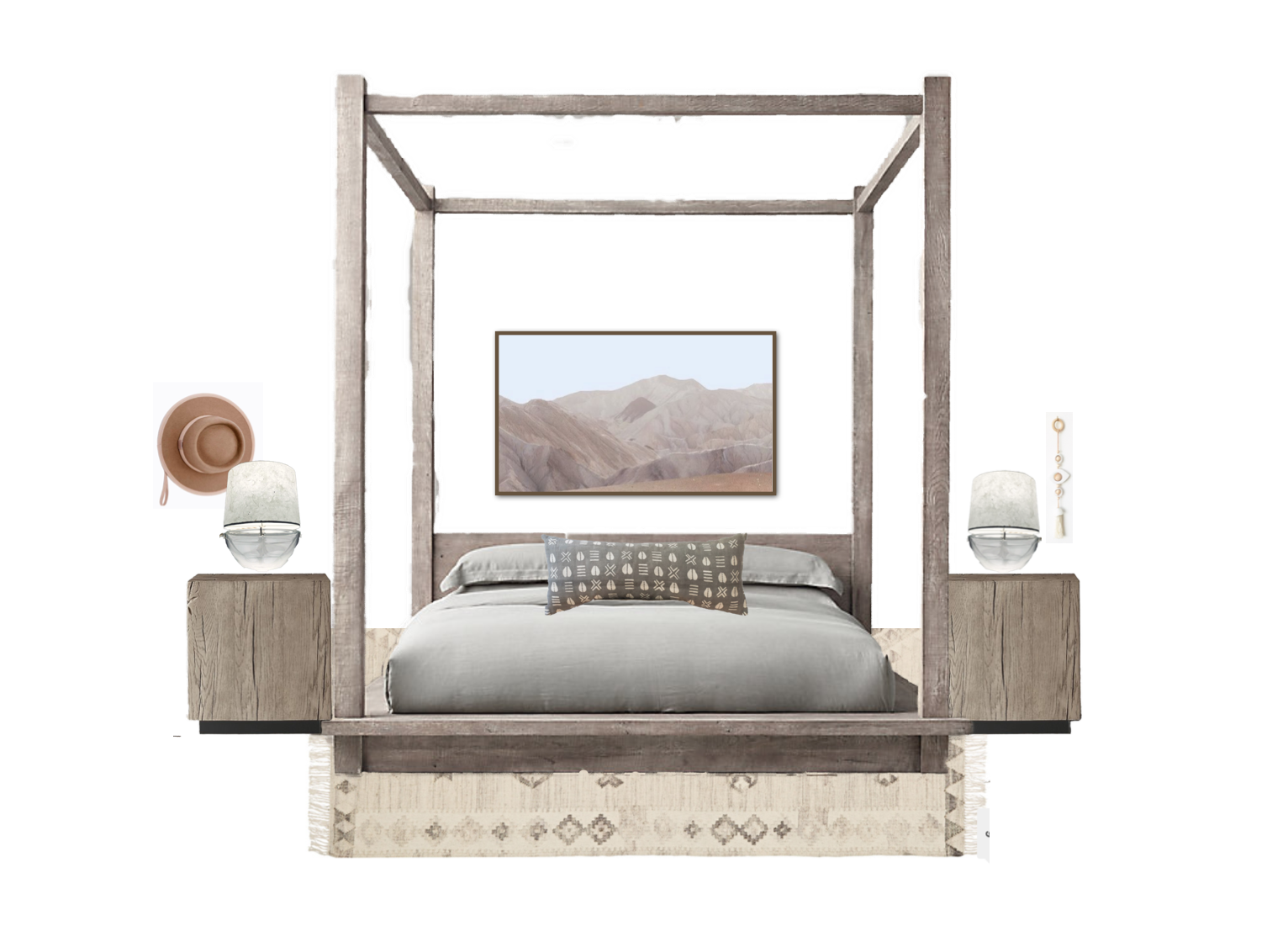 1-4. Here are some more brass lighting options. All of these are plug-ins so you can hang them up and then take them with you when you move! With 1 & 2, you can change the shape of the fixture a bit depending on what kind of lightbulb you choose to use. (And I'm happy to make a recommendation if you want to go this route.) #3 swings out from the wall, which could be nice if you like to read in bed, so that the bed frame isn't blocking any light. And #4 is a woven pendant that you could hang using a small hook from the ceiling over your nightstand.
5-6. A couple of options for artwork. I love these ceramic pieces by West Perro. And Kayla Gayle is working on a new series of abstract paintings that would work really well with your color scheme. (I think they might be going on sale tomorrow! But I know that she's also open to doing custom work.)
7-9. Pillow, blanket, and rug from previous design round.
10-13. Here are a few nightstand options with a more natural feel. #10 literally brings the outdoors in a bit, it's a cast ceramic table from Restoration Hardware. I like the organic feel to it, and it's incredibly affordable. #11 is a table from Mos Design. The tops are made by artisans from stucco and wood. #12 is handcarved of bleached wood. And #13 is a rattan stool, that's also very affordable.
Everything is also pinned here if you want to check out links or more details!
Next Steps:
Let me know what you like! If you want to email me with the numbers that are your faves, I'll put together a final board, layout, and pricing for everything.